Career-Related Programme Mini Toolkit:
The Career-Related Studies Connections
Guiding IB educators towards success
$ 35
For a 3-month subscription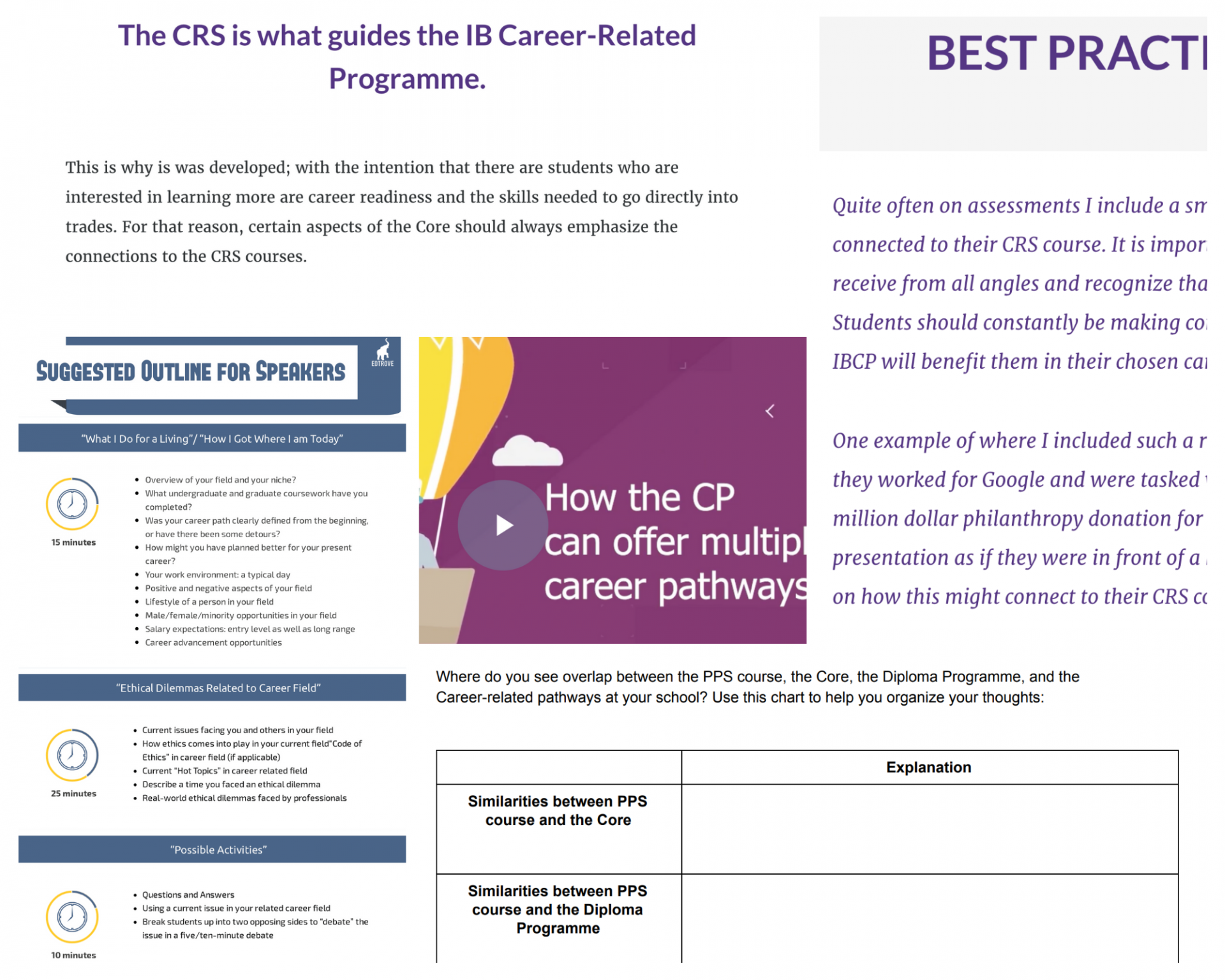 Learn all about the Career-Related Studies Connections within the CP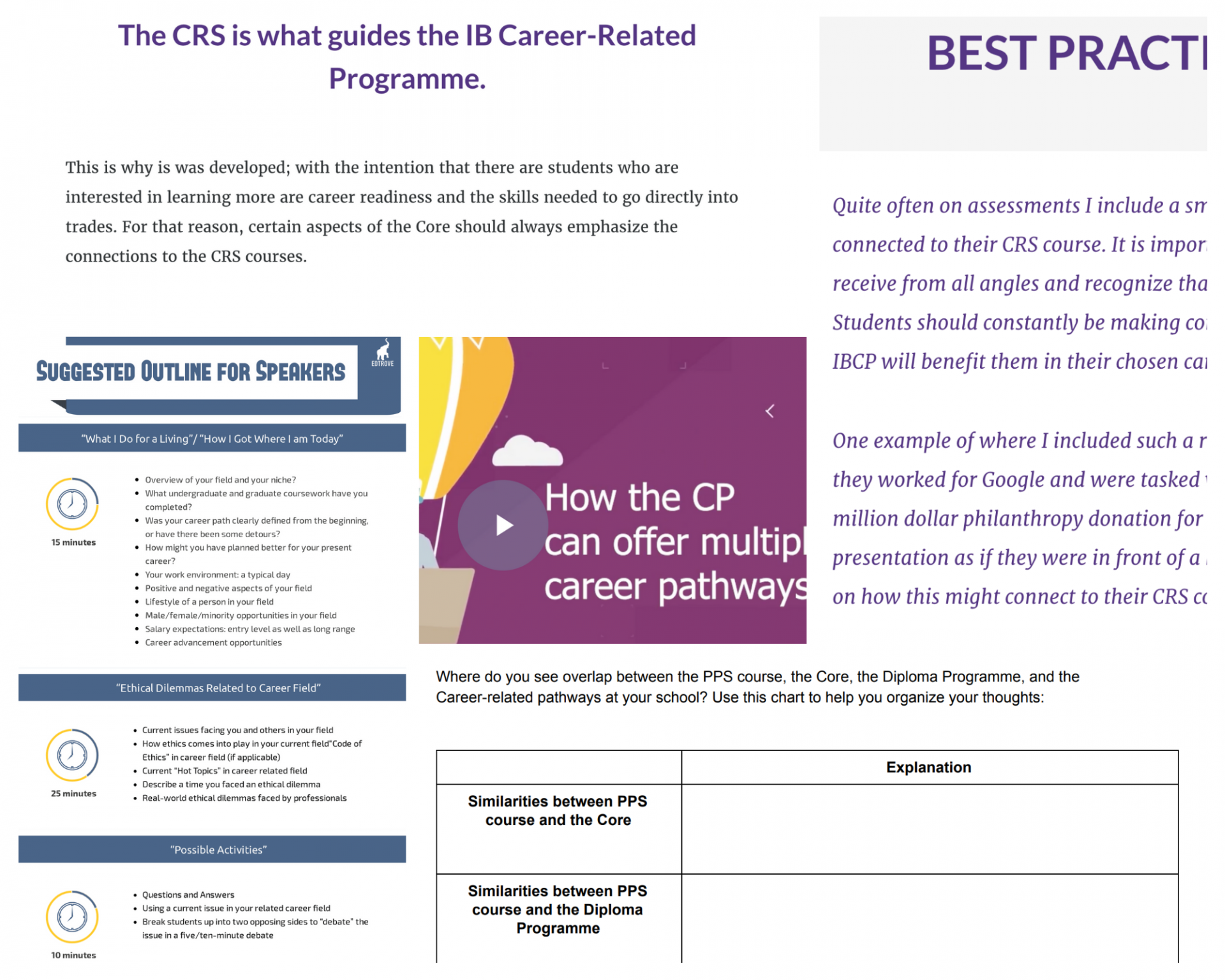 Practical tools, classroom examples, and content from IB examiners, IB workshop leaders, and experienced CP Coordinators and PPS teachers.


This
mini toolkit
gives you best practices and explanations for how the CRS supports and connects to the Career-Related Programme, and how PPS teachers can collaborate with CRS teachers.
Learn more about this vital component of the CP to build a strong program at your school!
Explanations and best practices for different student career pathways within the CP


Classroom examples of how the PPS can connect to the CRS in a meaningful way for students
Practical advice and downloadable resources for incorporating the CRS into the CP Core
Why mini toolkits?
Mini toolkits are the perfect solution for
Busy teachers who don't have time to go through an entire toolkit.

Experienced teachers who are looking to refresh their knowledge in just one aspect of the IB subject guide.

IB Coordinators who want to deliver in-house professional development training in a focused and precise manner.

School administrators who want to ensure all their IB teachers have up-to-date training in IB teaching & learning best practices.
A DIGITAL WORKBOOK
Your digital workbook is designed to help expand your work on the core concepts within this mini toolkit. It is downloadable and may be be printed when you begin your Ibtrove session.
EARN A DIGITAL CERTIFICATE
Earn a digital certificate that can be used for re-licensure (depending on your state or country).


Stewart Paterson
CP Coordinator & PPS Teacher
Stewart taught Physical Education in his home country of Scotland before beginning his international and IB teaching career. Arriving in Shanghai in 2017, Stewart took on the role of IBCP Coordinator, CP Sports, and PPS Teacher. In this capacity, he established the IBCP through pathways in Art and Design, Business and Sustainability, Sports, and Aeronautics. After five successful years, Stewart is moving to another international school in China to implement and build a new IBCP offering to meet the needs and aspirations of his new school community. Stewart is passionate about the IBCP and the opportunities it can offer to students looking to fast-track their careers through a personalized and tailored programme of learning.
Amy Earl
CP Coordinator & District Leader
Amy has experience teaching K-12 and with diverse populations. She believes the IB continuum is approachable and accessible for all students and loves the whole-child approach. She was a CP Coordinator for five years before recently moving to district leadership in College, Career, and Life Readiness.
Bill Giannetos
PPS Teacher, NCTE Teacher
Bill is a PPS I and PPS II teacher for the IBCP at Taft High School, Chicago. He has extensive teaching experience at the middle school, high school, and university level. He is a National Board Certified Teacher (NBCT, 2005) in History/Social Studies. He enjoys reading, cooking, and traveling.
Denise Prociuk
IBCP COORDINATOR & PPS TEACHER & WORKSHOP LEADER
Denise has been teaching in the IBCP since 2013. She spearheaded the IBCP in Chicago as one of the first Core teachers and was invited to The IB Global Centre in The Hague to develop the current curriculum. Denise also gave the first IBCP presentation at the IB Conferences of the Americas. She has led workshops on the IBCP Core Components and is on the IBCP assessment team. She has her master's degree in Educational Leadership.
Some questions we hear often...
How
does this mini toolkit help me as an IBCP coordinator and/or PPS teacher?
This mini toolkit includes in-depth explanations and details into how the CRS fits into the CP and how PPS teachers can use the CRS to support their own teaching. This toolkit also goes through how the CRS and CP Core can connect to make a meaningful learning experience for your students.
Can
an experienced IBCP coordinator and/or teacher benefit from using this mini toolkit?
Definitely! With printable resources and classroom examples, our mini toolkit includes a wide variety of ideas to spark your creativity and help you see student academic improvement.
Can I use this mini toolkit for all my teachers at my school and district?
Yes! This CP mini toolkit is designed to work with our other Ibtrove toolkits for a comprehensive and unified professional learning opportunity for all the IB teachers in your building and district.
IB Schools love us
Using Ibtrove courses I was able to get all 20 of my IB teachers trained quickly with minimal disruption to their schedule. Plus we saved quite a bit of money which was the cherry on top.
As a CP Sports teacher transitioning to becoming a CP Coordinator - this was useful to me. I already have a basic understanding of the CP Core
Gary Halcrow
New CP Coordinator
The toolkit is extremely helpful for a new CP coordinator like me.
VIDHI KANJANI
New CP Coordinator