IBTROVE's
MYP Projects
Teacher Toolkit
Guiding IB educators towards success
$199
One Year Access per Teacher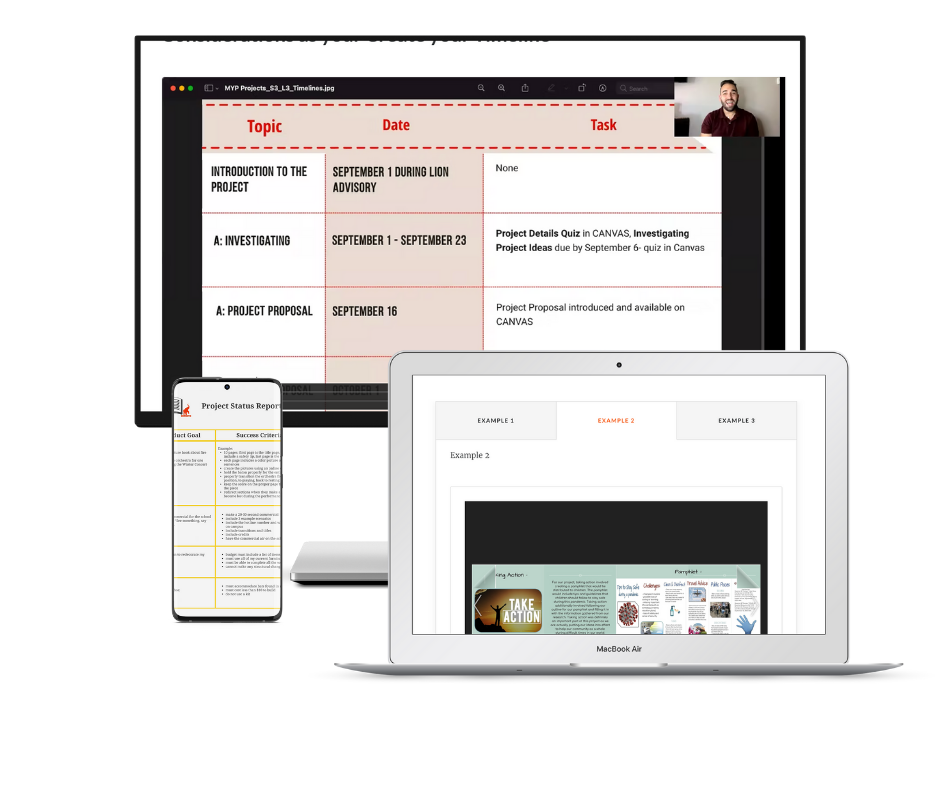 See inside this MYP Projects Toolkit
Practical tools, support, and guidance for MYP Coordinators, Supervisors, and Teachers.
Expert best practices and guidance from experienced MYP Projects Coordinators.
Tools and student samples for both the Community and Personal Projects.
Detailed guidance for creating a timeline that works best for your school.
Free printable and downloadable resources to get you started and feeling confident about coordinating & supervising the MYP Projects.

Easy-to-understand explanations for planning, assessing, & guiding your students.
Downloadable & printable resources that you can use right away.
Videos and audios to help you plan, organize, and prepare your students.
Updated content based on the newest MYP Projects subject guide.
MYP Projects Toolkit Contents:
MYP Projects Contributor Team
Matthew Astone
MYP Coordinator, IBEN Member, Workshop Leader, Programme Leader, & Site Team Member
Matthew Astone is the IB MYP Coordinator at Glenridge Middle School in Orlando, FL. He received a Masters of Education in Educational Leadership from the American College of Education and a Bachelors of Music in Music Education from Westminster Choir College. Previously he was the IB Community Project Coordinator and the Choral Director at Glenridge. Within the IB Educators Network, he is a workshop leader, programme leader and school site team member.
Nicole Blackmon
MYP & DP Coordinator, IBEN Member, Workshop Leader, Site Visitor, & Reviewer for BQC
Nicole Blackmon has been involved in the IB since 2001, teaching MYP individuals and societies, design and serving as an MYP and DP coordinator. Currently, Nicole is the IB Coordinator at Jones HS in Orlando Florida. As a member of the IB Educator Network, she conducts IB workshops, site visits, consultations and is a reviewer for BQC.
Maria del Carmen Palma Sànchez
MYP Projects Coordinator, MYP & DP Spanish teacher
Maria currently works at SEK International School Qatar as a DP and MYP Spanish Language Acquisition teacher and MYP Community Project Coordinator. She has experience as an MYP Coordinator and a Spanish Language and Literature teacher in both MYP and DP.
Some questions we hear often...
Can an experienced MYP Coordinator benefit from using this toolkit?
Definitely! With resources and best practices for every MYP subject, our MYP Projects toolkit includes a wide variety of ideas to prepare your students for their Project and support your MYP teachers as they supervise this project. This toolkit includes all the updated subject guide information that was published in February 2021.
How does the toolkit help me as an MYP Coordinator or Projects Supervisor?
This toolkit includes downloadable & printable resources to help you in the planning and organizing steps of MYP Projects, ideas for all 8 MYP subjects with connections to the Community & Personal Project, and assessment samples. Learn from IBEN members who facilitate workshops for the IB on MYP Projects in an easy-to-use toolkit format.
Can I use this for all the teachers at my school and district?
Yes! This toolkit is a great resource for teachers who are supervising the MYP Projects for the first time or just want to build their knowledge in the Projects.

You can also bundle this toolkit with our other Ibtrove toolkits to create a customized learning plan for your teachers!
Ibtrove Reviews
"The interface so clear and easy to use, and lots of classroom examples were embedded in every lesson. I highly recommend it for any teacher new to IB or even as a quick refresher as you start a new school year!"
"Using Ibtrove courses I was able to get all 20 of my IB teachers trained quickly with minimal disruption to their schedule. Plus we saved quite a bit of money which was the cherry on top."