Let's put together all that we have learned in the past two blog posts so we can confidently begin using classroom discussions in our IB classrooms.
Just as a reminder: We have talked about
how to write effective questions
and
h
ow to create an environment for meaningful discussions.
Now let's talk about the discussion guide and assessment pieces of a discussion.

In my post about creating a comfortable environment, I discussed how to prepare your room and I mentioned using a discussion guide. Your discussion guide should include:

Before:
It is important students think before they talk. Depending on your text/topic, you may want to give an overarching question for students to think about or you might want to give them a blank space to jot down a question they have or a quotation they found important or unclear.
Discussion Questions:
You have lots of different types of learners in your classroom, so make sure you write down the discussion questions for the day. Visual learners like to see the questions before they answer them and other learners may need to refer back to the original question before answering.
Reflection:
Give students a place to reflect on their contribution to the discussion and what they learned during the discussion. This is not only good practice for the Learner Profile: reflection, but it helps them remember what happened during discussion, and create goals for their next discussion.

Rubric: Assessing your students is important as long as your assessment is relevant and meaningful. With an effective assessment students take the discussion more seriously, invest in learning from their classmates, create goals with regard to oral language, and develop Learning Profile attributes: caring, communication, and risk-taking. Grade students as a group and individually. A group grade requires students work as a team -- your first few discussions will likely not lead to everyone discussing, but eventually by using a group assessment, this will get easier and by the third discussion you will start seeing more participation and deeper exploration of the text/topic.
Here's a sample of a discussion guide for Hamlet.
BEFORE:
Think about Hamlet and write down any questions you have, or a quotation you really liked below.
QUESTIONS:
Think about how you might answer the following questions verbally:
Is Hamlet pretending to be mad, or do you think he slips into madness at some point in the play
Does Hamlet really love Ophelia? Explain.
What is the role of Fortinbras in the play?


DURING:
Make sure you remind students NOT to take notes. You can take notes for them so they can fully participate and not hide behind their notes.
REFLECTION:
Please write one way you contributed to the discussion and two things you learned from you classmates today.


RUBRIC:
Think about what categories you want to focus on for your discussion guide. I have devoted the first two criteria to the criteria on the DP Literature IA. I then change up which Learner Profile I want to focus on, and finally I give a group grade. The group grade encourages students to cooperate and share their speaking time with each other.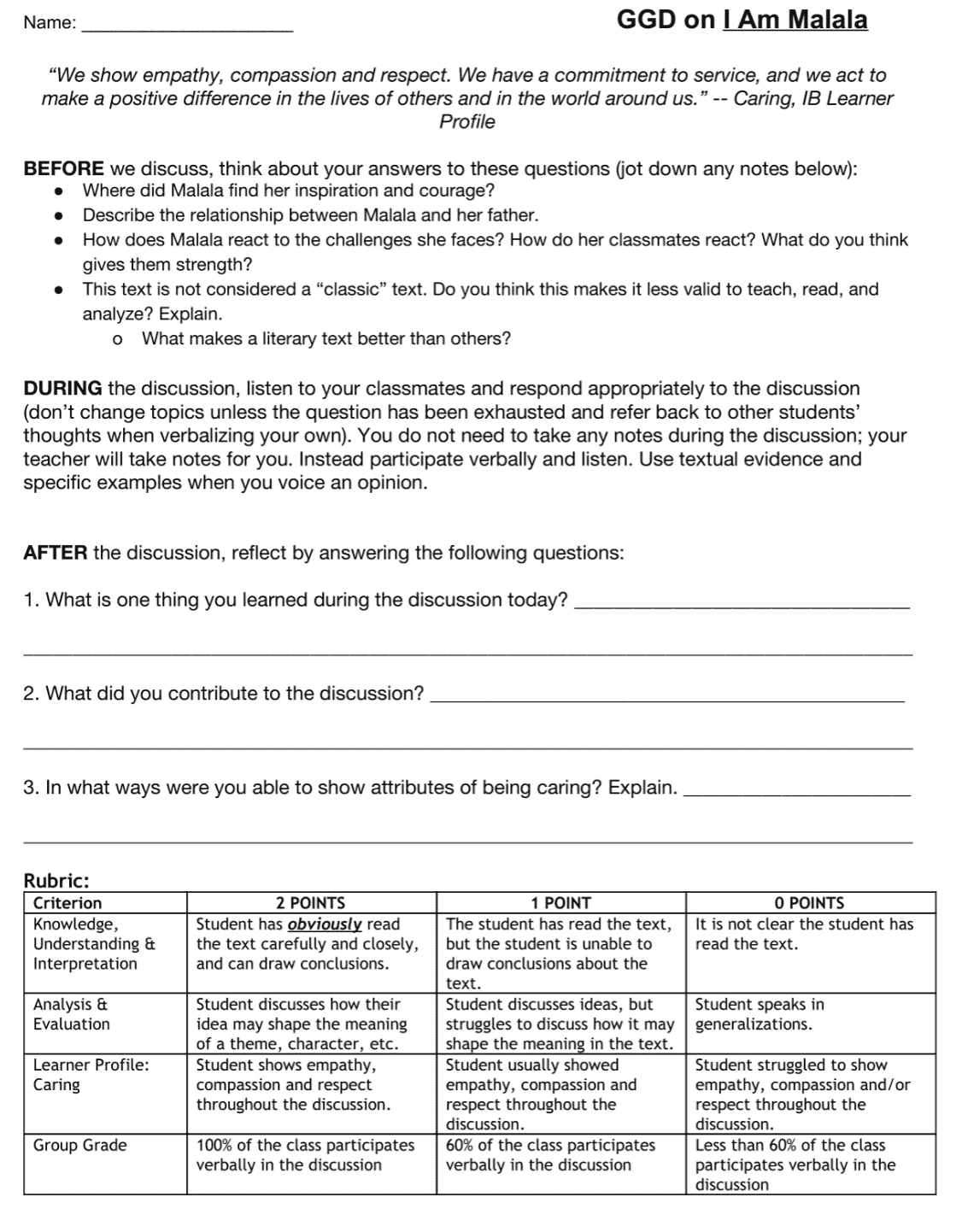 Looking for more tools for teaching IB?
Check out our Ibtrove Toolkits!