In the IB, the approaches to teaching (ATT) skills are linked to our pedagogy which goes beyond what and how we teach and encompasses how we support, develop and interact with our students -- it is a teaching style. To ensure we are the best educators we can be, we need to identify our own strengths and areas for development and participate in continuous professional learning. Reflecting on our own practice, collaborating with peers from the wider IB community and communicating how and that we are learning is all part of this learning journey.
One of these ATTs is collaboration and teamwork. This includes collaborative tasks; team working activities; interacting with peers; interacting with non-peers. These social skills are important to teach our students since communication skills, collaborative skills, and teamwork abilities are important in learning and in our students' futures at work.
Student-Centered Approach to Learning
Some teachers feel a bit timid to "let go" of their class, but teachers are still an authority figure in a student-centered teaching model, teachers and students play an equally active role in the learning process.
The teacher's primary role is to coach and facilitate student learning and overall comprehension of material, and to measure student learning through both formal and informal forms of assessment, like group projects, student portfolios, and class participation. In the student-centered classroom, teaching and assessment are connected because student learning is continuously measured during teacher instruction.


Learn more about the different teaching styles that use a student-centered approach.


Student's academic performance can increases classroom learning when teachers use collaborative learning since students are better able to understand the content, and teachers are differentiating their instruction.
Classroom Examples
Identify which communication methods are used by the IB to assess students in your course – as teachers we tend to focus on these communication methods in our learning spaces.
Map the communication methods you use/are planning to use in the teaching of your course.
Identify the communication methods which are less used or not used.
Build into your course opportunities for students to practice all relevant communication methods.
Build into your course students to communicate with a range of people for a range of purposes.
Plan for individual, paired and team work and group students based on the topic, audience and purpose and re-group for each significant activity.
Create opportunities to allow students the opportunity to work with friends, peers and individuals beyond their immediate class.
Here's a subject-specific example from Group 1: Language and Literature using a graded group discussion. This discussion guide was used to facilitate a class discussion of 28-30 students for a 45 minute time period.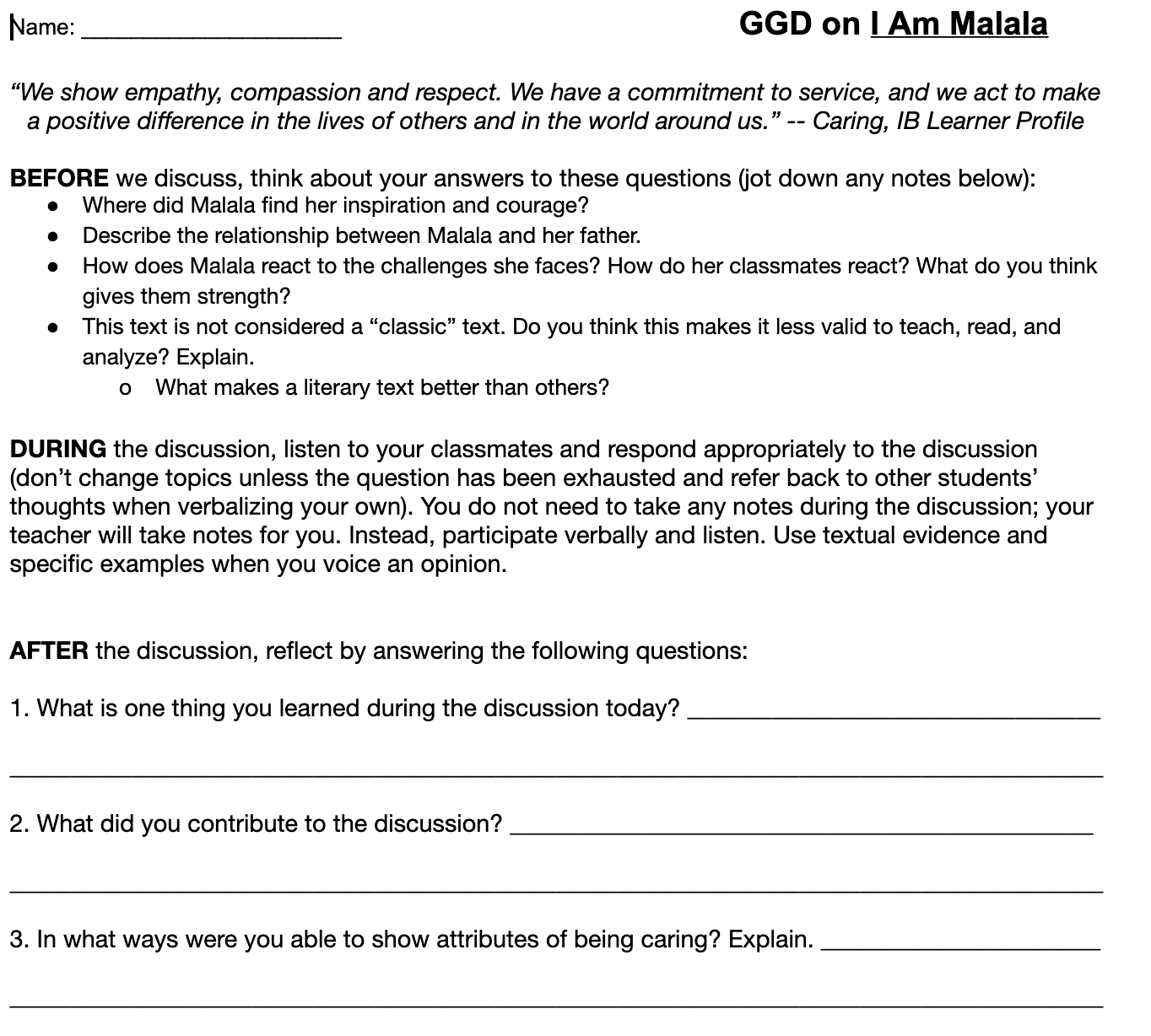 What is one of your favorite group activities?