The IB gives teachers many supports to help them develop the mission statement goals in their students and classrooms. These supports include:
10 personal attributes for students and teachers to develop


The Approaches to Learning
Skills students should be developing while learning content


The Approaches to Teaching
Best practices for teachers
These three components of the IB are consistent through the PYP, MYP, DP, and CP and focus on international-mindedness.
Learning Environments
Learning environments are nurturing spaces that support the development of all young children. They include classrooms, play spaces, areas for caregiving routines, and outdoor areas. Learning environments are well-organized and managed settings. They offer developmentally appropriate schedules, lesson plans, and indoor and outdoor chances for choice, play, exploration, and experimentation. Learning environments include age-appropriate equipment, materials, and supplies. They integrate home cultures and are flexible to support the changing ages, interests, and characteristics of a group of children over time. In home-based programs, the learning environment includes the home, community, and group socialization spaces. (eclkc.ohs.acf.hhs.gov)
As teachers plan their IB classroom environment, it's important to remember the role of the teacher, and the three approaches. Let's take a closer look at how teachers can use these as a way to build a safe, equitable classroom where all IB students can learn and find success first by looking at the role of the IB teacher.
The Role of the IB Teacher
The role of the IB teacher is to guide and facilitate learning, and to create a positive learning environment. The IB programme's goal is to create life-long learners. You can support your students by ensuring you are planning activities thoughtfully so that they can do the learning in class. I like to think about IB teaching like this: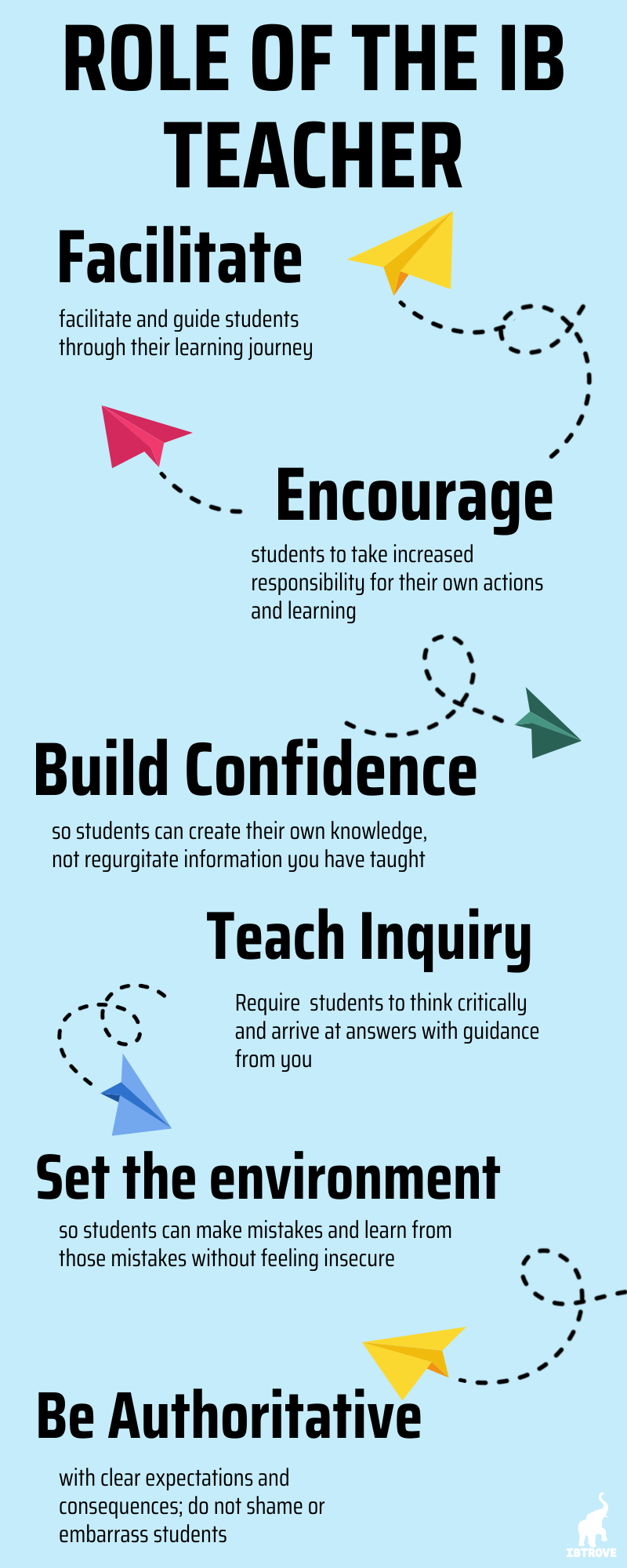 The goal for an IB teacher is to create lifelong learners through challenging programmes and rigorous assessment, while allowing students to make mistakes and feel comfortable taking learning risks.
One of the ways I facilitate learning in this way is by planning large group and small group discussions for my students. In the planning process for these learning activities, I am thoughtful about discussion questions that will allow students to dig into the content I've been teaching, and provide them with enough support so they can talk for the full class period without me interrupting. During these discussion days, I sit, listen, and take notes while my students think, discuss, and learn from each other.
How do you see your role in the classroom as an IB teacher?




Want to learn more? Subscribe to an MYP, DP, CP, or General IB Teacher Toolkit.