IBTROVE's
IB Approaches to Teaching & Learning (ATT & ATL) Teacher Toolkit
Guiding IB educators towards success
one year access per teacher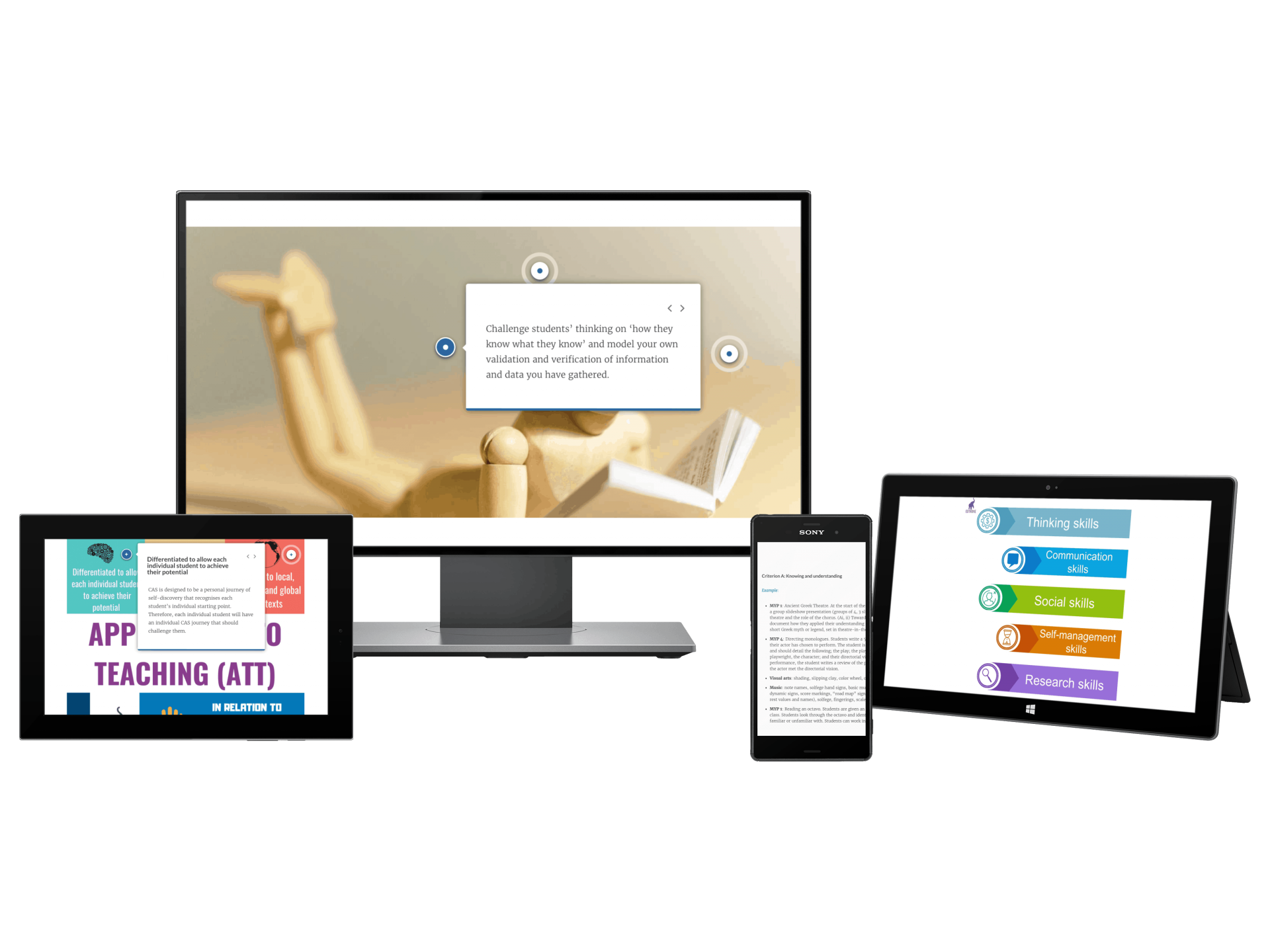 Take a look inside this toolkit
Get the practical tools, classroom examples, and content from experienced IBDP teachers you need to be successful.
Resources to use in your own IB classroom

Classroom examples and explanations to help you improve your teaching practice

Best Practices from experienced IB MYP, DP, and CP teachers
Easy-to-understand explanations for the ATLs (both academic and personal) and the ATTs.
50+ downloadable resources and informative graphics to deepen your knowledge.
Classroom examples from experienced IBDP teachers.
Best practices and strategies to improve your teaching.
EARN A DIGITAL CERTIFICATE
Earn a digital certificate that can be used for re-licensure (depending on your state or country).


ATL & ATT Toolkit Contents
School Purchase
We gladly accept purchase orders. Just click below to begin the process or connect with us to let us help you through the process.
BOOK SUGGESTION
LOOKING FOR SOME GREAT IB BOOKS FOR YOU CLASSROOM?
Find a few titles we recommend below.
Ibtrove's
IBDP ATL/ATT Contributor Team
Ruth West
DP COORDINATOR
Ruth is an experienced educator who has worked online and in schools implementing the IB. She has held a number of educational leadership positions which have all focussed on supporting teachers to improve classroom practice, curriculum delivery and pedagogy to help increase student outcomes.
Molly Clarkson
MYP L&L Teacher, IBEN Educator, Workshop Leader
Molly is a Language and Literature teacher and MYP Coordinator from Virginia. Molly has worked in the MYP as a teacher since 2002, and frequently facilitates IB Professional Development workshops as a member of the IB Educators Network (IBEN). Molly is a National Board Certified Teacher.
Brad Opfer
DP MATHEMATICS TEACHER
Brad is an experienced international educator with a demonstrated history of teaching excellence and innovation. He has a vast knowledge of the ATLs and ATTs and has been teaching in the IBDP since 2004. He enjoys challenging and inspiring his Mathematics students to achieve meaningful goals and live a fulfilling life.
Janna Nobleza
Ibtrove Academic Lead
Janna is an experienced IB Literature teacher whose experience also includes being a Regional workshop leader, EE supervisor, and DP Teacher Mentor.
Some questions we hear often...
How does this toolkit help me become a better IB teacher?
This toolkit includes 30+ downloadable resources which focus on your IB learners and your IB teaching methodology, including:
ATL classroom examples for any IBDP subject
ATT best practices to improve your teaching and student learning
Easy-to-understand explanations for the rationale behind each approach and the benefits they have to your students and your teaching
Can an experienced IBDP teacher benefit from using the IB toolkit?
Definitely! All teachers will find reviewing the IB best practices for teaching and learning useful, plus our toolkit includes resources and classroom examples to spark your creativity and get you excited about teaching IBDP again.
Can I use this for all my teachers at my school and district?
Yes! This toolkit is perfect for DP teachers in ANY subject area. It's a great resource for school-wide professional development and teacher collaborative workshops.

You can also bundle this toolkit with our other Ibtrove toolkits to create a customized learning plan for all your teachers!
Ibtrove reviews
"I like the detailed explanations...It helped me to better understand what IB means by ATL and ATT and helped me to get familiar with the components of them so that I can do my best to implement it in my classroom."
"Using Ibtrove courses I was able to get all 20 of my IB teachers trained quickly with minimal disruption to their schedule. Plus we saved quite a bit of money which was the cherry on top."