IBTROVE's
IBDP Creativity, Activity, Service (CAS) Teacher Toolkit
Guiding IB educators towards success
one year access per teacher
one year access per teacher
one year access per teacher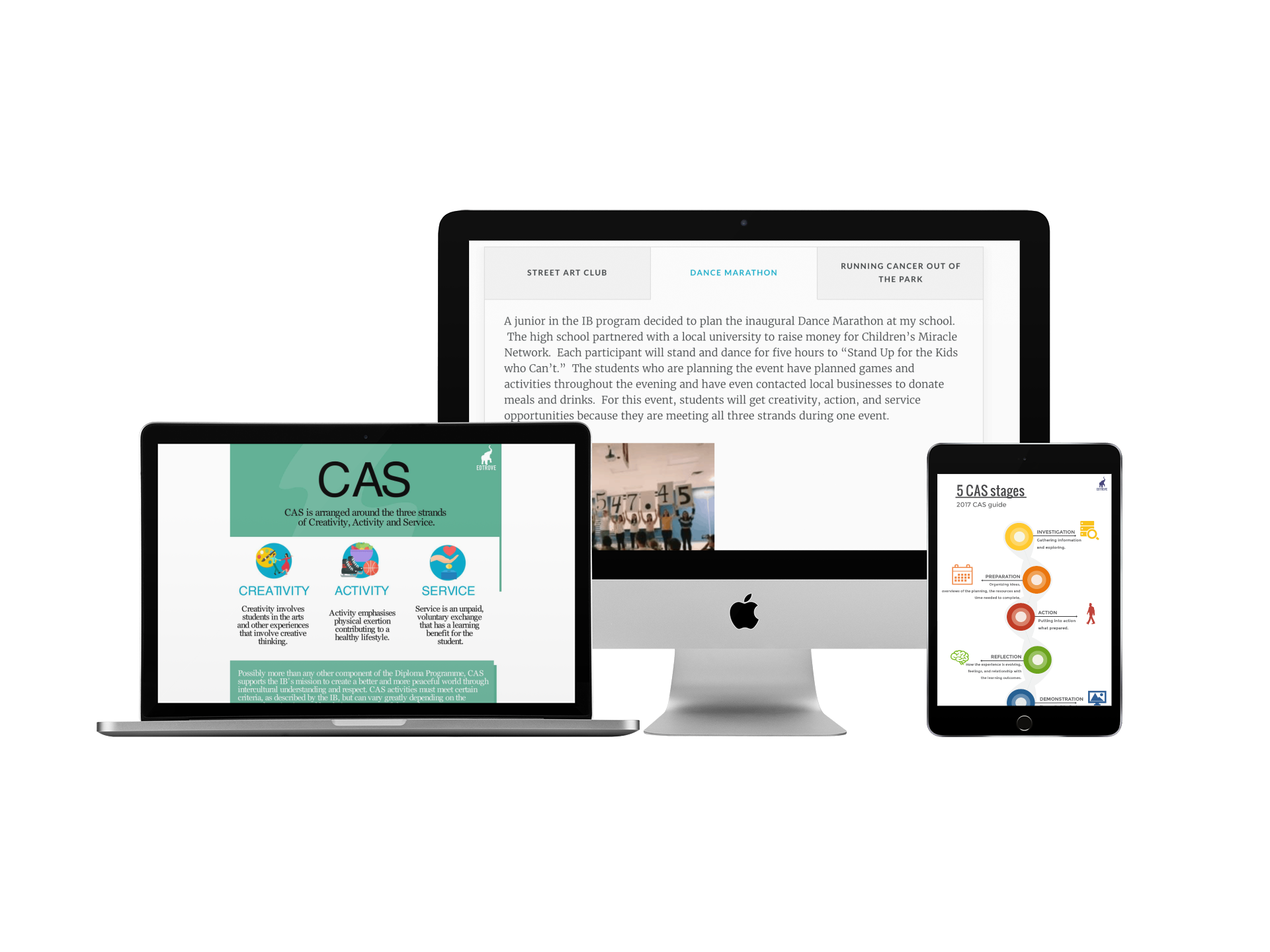 A 90-second overview of how the Ibtrove toolkit helps you build and maintain a vibrant CAS programme at your school!

Practical tools, classroom examples, and content from CAS coordinators.
EXPLANATIONS
Easy-to-understand explanations to help you improve your knowledge and build your CAS programme.
DOWNLOADS
20+ printable downloadable resources and informative graphics to deepen your knowledge.
SAMPLES
Student project samples to help you think of ways to deepen and expand your own programme.
PLANS
Plan CAS experiences and monitor your students with classroom examples and best practices from experienced teachers.
EARN A DIGITAL CERTIFICATE
Earn a digital certificate that can be used for re-licensure (depending on your state or country).


School Purchase
We gladly accept purchase orders. Just click below to begin the process or connect with us to let us help you through the process.
BOOK SUGGESTION
Looking for some great books for your CAS programme? Find some recommendations below.
Jessie Aaron
CAS Coordinator, MYP & DP Coordinator, ATL Coordinator
As a CAS coordinator, MYP and DP coordinator, ATL coordinator, and IB teacher, Jessi has had the opportunity of working across the IB programmes to give her a holistic understanding into building brides for students.
Jennifer Flanagan
CAS Coordinator & DP Literature Teacher
Jennifer engages in CAS in her personal life on a daily basis. As an ovarian cancer survivor, she works with a local charity called Bluewater Babes writing grants and fundraising. As a CAS coordinator, she shares her own CAS passions with her students to encourage them in their own experiences. Jennifer is also the EE coordinator, a DP Literature teacher, and on the assessment team for IB and AP. She has been teaching since 2006.
Victor Ferreira
Victor has been the DP Coordinator since 2005 at his school in The Hague. He has extensive knowledge of all the inner-workings of the IBDP including developing and maintaining a CAS programme.
Some questions we hear often...
How does the toolkit help me with my role as a CAS coordinator?
This toolkit includes 20+ downloadable resources that focuses solely on developing and maintaining a successful CAS programme at your school. Resources include:
Student experience samples and portfolio samples
Monitoring your students' experiences
Supporting your students and growing your CAS programme
Can an experienced CAS Coordinator benefit from using the IB toolkit?
Yes! With over 20+ printable resources, our toolkit includes a wide variety of ideas to spark your creativity in CAS.
Can I bundle this toolkit along with other Ibtrove toolkits?
Definitely! This CAS toolkit is designed to work with our other Ibtrove toolkits for a comprehensive and unified professional learning opportunity for all the IB teachers in your building and district.

Bundle this toolkit with our other Ibtrove toolkits to create a customized learning plan for your teachers!
"The interface so clear and easy to use, and lots of classroom examples were embedded in every lesson. I highly recommend it for any teacher new to IB or even as a quick refresher as you start a new school year!"
"Using Ibtrove courses I was able to get all 20 of my IB teachers trained quickly with minimal disruption to their schedule. Plus we saved quite a bit of money which was the cherry on top."
"The multiple different categories and options for learning new skills, refreshing old ones or trying different challenges, and the student project resources are superb."
Nick Black