IBTROVE's
IBDP Business Management
Teacher Toolkit
Guiding IB educators towards success
$ 199
one year access per teacher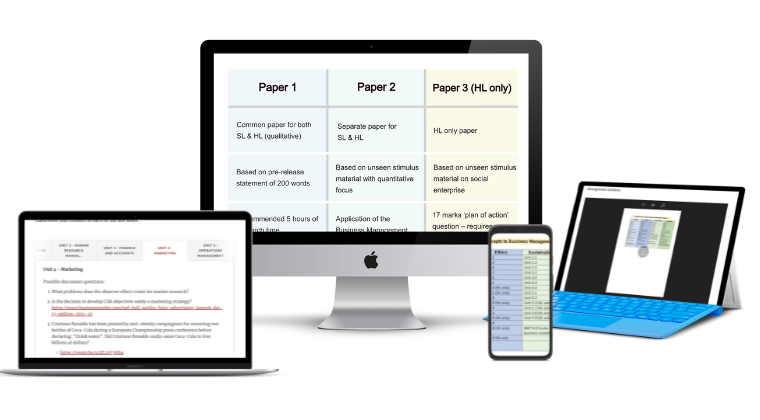 Take a look inside this Toolkit
Guiding IB educators towards success



Printables that are classroom ready


Assessment samples to practice your marking


Best practices for planning & teaching






Resources for teaching all parts of the Business Management syllabus
Resources for the NEW subject guide
Over 40+ printables that are classroom ready
Assessment samples & best practices for preparing your students
Guidance on creating the best scope & sequence

Completion Certificate
Earn a digital certificate that can be used for re-licensure (depending on your state or country).
Toolkit Table of Contents
School Purchase

We gladly accept purchase orders. Just click below to begin the process or connect with us to let us help you through the process.
DP Business Management Contributor Team
T.P. Suraj
DP Business Management teacher
Suraj has been teaching DP Business Management since 2010 and also works as his school's EE coordinator. He has worked in IB world schools in three countries and taught A-Level Business, IGCSE Business Studies & Economics. Further, I am the IBDP examiner for Business Management Higher Level Paper 2 and Extended Essay. In my teaching career, I have received two outstanding international teaching awards from two IB schools in Shanghai, China. It is my goal not only to provide my students with the basic understanding and application of the subject, but also to enable them to work with each other in-group settings, be creative, and to effectively communicate their ideas and concerns.
Ruth West
DP Business Management teacher
Ruth West is an experienced educator (having begun her teaching career in 1998) with a degree in Law and Economics, Post Graduate Certificate of Education in Economics, an MSc in Managing School Improvement and the National Professional Qualification for Headship (UK). Ruth has worked online and in schools implementing the IB as well as GCSE, iGCSEs, A Levels, GNVQ, BTEC and the Queensland Certificate of Education. Ruth has held a number of educational leadership positions which have all focussed on supporting teachers to improve classroom practice, curriculum delivery and pedagogy to help increase student outcomes. In her career Ruth has won educational awards including twice winning a local Educator of the Year award, a national award for Excellence in Teaching of Financial Literacy and a regional Excellence in Educational Leadership award.
Brad Opfer
DP Business Management & Mathematics teacher
Brad is an experienced international educator with a demonstrated history of teaching excellence and innovation. He enjoys challenging and inspiring his Business Management & Mathematics students to achieve meaningful goals and live a fulfilling life.
Some questions we hear often...
How
does the toolkit help me become a better DP Business Management teacher?
This toolkit includes downloadable resources, practical information, and best practices to support you in your teaching and make planning easier. This includes:
Detailed information on designing your scope & sequence
Student assessments so you can see more samples and practice your own marking (which is especially important for IA moderation)
Lesson activities and unit plans to show you what an effective DP Business Management course looks like in an experienced IB teacher's classroom
C
an
an experienced DP Business Management teacher benefit from using this IB toolkit?
Definitely! With over printable resources and classroom examples, our toolkit includes a wide variety of ideas to spark your creativity and get you excited about teaching DP Business Management. Plus our toolkit is updated to the new subject guide to walk you through the new curriculum requirements.
Can I use this for all my teachers at my school and district?
Yes! This DP Business Management toolkit complements our other DP (and MYP and CP) teacher toolkits well, so that all your IB teachers can get the training and support they need throughout the school year.
Ibtrove reviews
"The interface so clear and easy to use, and lots of classroom examples were embedded in every lesson. I highly recommend it for any teacher new to IB or even as a quick refresher as you start a new school year!"
"Using Ibtrove courses I was able to get all 20 of my IB teachers trained quickly with minimal disruption to their schedule. Plus we saved quite a bit of money which was the cherry on top."