IBTROVE's
IBDP Extended Essay (EE) Teacher Toolkit
Guiding IB educators towards success
one year access per teacher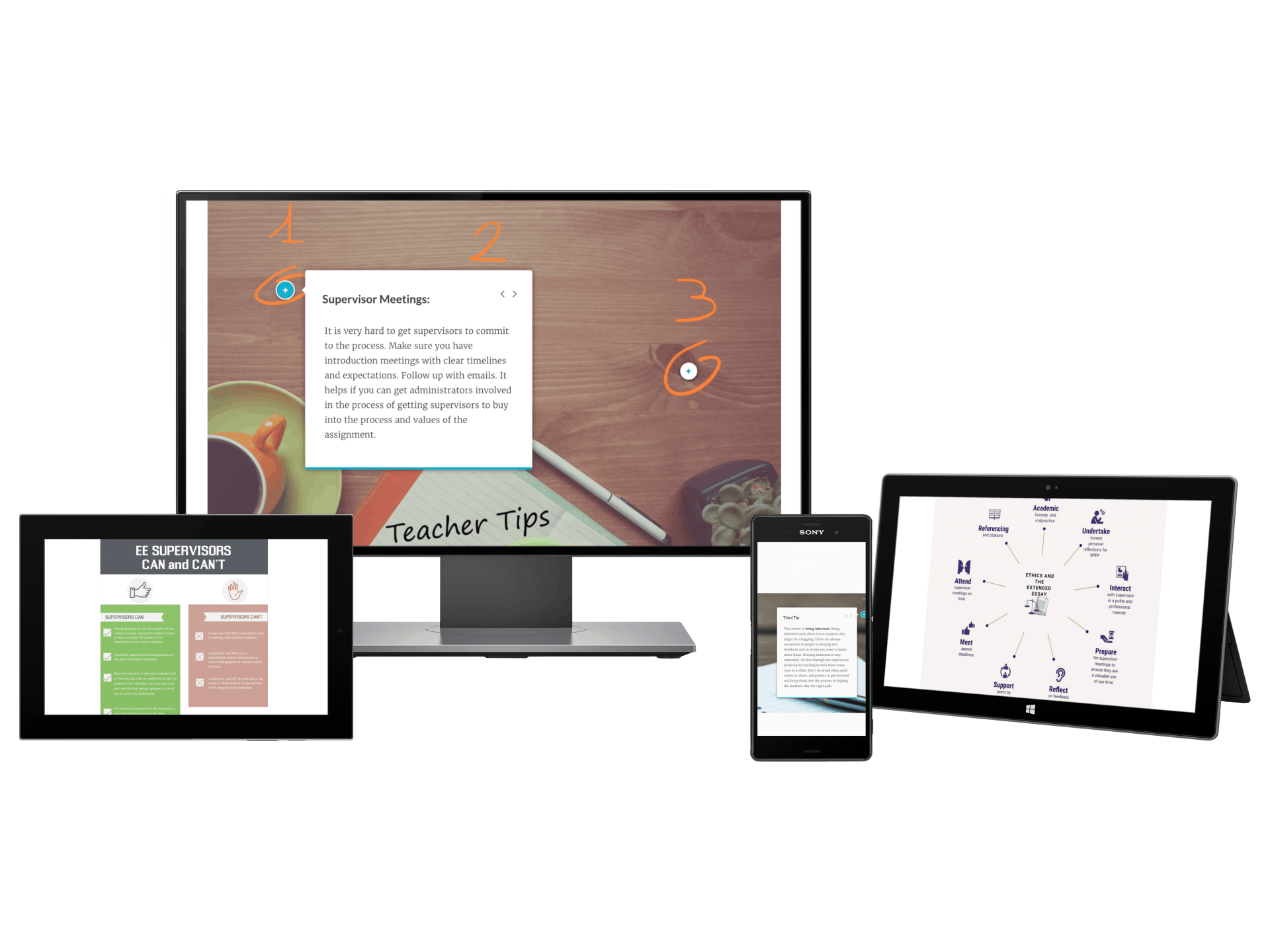 A 90-second video on how this Ibtrove toolkit helps support, coordinate and manage the Extended Essay at your school!
Practical tools, classroom examples, and content from experienced Extended Essay coordinators.
Best Practices and easy-to-understand explanations to help you best manage the EE project.

Organizational downloadable resources to make managing the EE easy.

Assessment examples so you can understand the criteria and accurately grade your students
Easy-to-understand explanations to help you coordinate and manage the Extended Essay project at your school.
25+ printable downloadable resources and informative graphics to deepen your knowledge.
Student samples to practice your marking and see the Essay in action.
Planning and supervising documents to help you successfully manage your teachers and students through this exciting project.
EARN A DIGITAL CERTIFICATE
Earn a digital certificate that can be used for re-licensure (depending on your state or country).

AUTOMATICALLY SHARE YOUR CERTIFICATE ON:

FACEBOOK
L
INKEDIN
Extended Essay Toolkit Structure
School Purchase
We gladly accept purchase orders. Just click below to begin the process or connect with us to let us help you through the process.
BOOK SUGGESTION
Looking for some great Extended Essay titles for your classroom? Look below for some ideas.
Extended Essay Contributor Team
Matthew Lundberg
EE Coordinator & DP Literature Teacher
Matthew has taught DP Literature and coordinated the Extended Essay since 2012. He works collaboratively with EE Coordinators around the world where he shares his resources and is a frequent presenter for school workshops. He is on the Instructional Leadership Team and is the content lead for IB English at his school. His favorite book is Faulkner's Absalom, Absalom!.
Victor Ferreira
DP
Coordinator
& EE Coordinator
Victor has been the EE Coordinator as well as the DP Coordinator since 2005 at his school in The Hague. He has extensive knowledge of all the inner-workings of the IBDP including managing the EE project.
Jalanii Lewis
EE Coordinator & Library Division Leader
Jalanii is an experienced EE Coordinator and the Library Division Leader at her school in Illinois.
Cassandra Christiansen
EE Coordinator & TOK Teacher
Cassandra is an experienced EE Coordinator and teaches TOK in Chicago.
Some questions we hear often...
How does the toolkit help me with coordinating the Extended Essay?
This toolkit includes 25+ downloadable resources that focus on supporting you as you coordinate the EE. This includes:
Providing you with printable and downloadable organization tools to manage the EE project.
Video and audio lessons on best practices, managing teacher-student relationships, etc.
Student samples so you know the ins-and-outs of the EE project even more thoroughly.
Can an experienced Extended Essay coordinators benefit from using the IB toolkit?
Definitely! With over 25+ printable resources, our toolkit includes a wide variety of ideas to get you organized and prepare your teachers and students for this project.
Can I bundle this toolkit along with other Ibtrove toolkits?
Yes! This Extended Essay toolkit is designed to work with our other Ibtrove toolkits for a comprehensive and unified professional learning opportunity for all the IB teachers in your building and district.

Bundle this toolkit with our other Ibtrove toolkits to create a customized learning plan for your teachers!
Ibtrove reviews
"The interface so clear and easy to use, and lots of classroom examples were embedded in every lesson. I highly recommend it for any teacher new to IB or even as a quick refresher as you start a new school year!"
"Using Ibtrove courses I was able to get all 20 of my IB teachers trained quickly with minimal disruption to their schedule. Plus we saved quite a bit of money which was the cherry on top."