IBTROVE's
MYP Language Acquisition Teacher Toolkit
Guiding IB educators towards success
one year access per teacher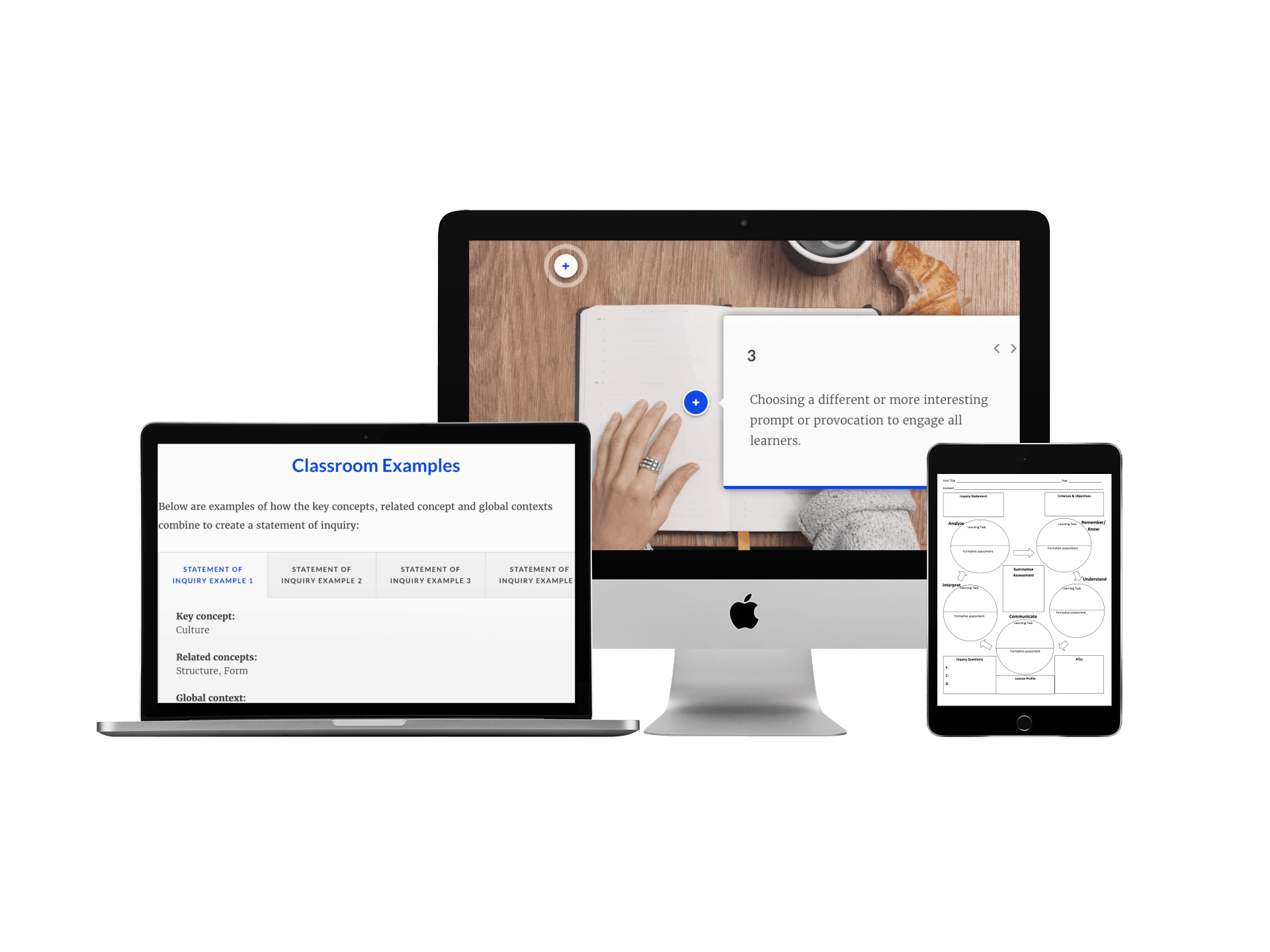 See a 90-second overview of how this toolkit can help deepen your knowledge of MYP Language Acquisition!
Practical tools, classroom examples, and content from experienced MYP Language Acquisition teachers and Language Acquisition Department Heads.
Classroom examples and resources to give you ideas for how to best teach MYP Language Acquisition
Downloadable resources you can modify and use right away in your own classroom
Explanations and graphics to help you plan your units of inquiry
30+ downloadable resources and informative graphics to use in your classroom and deepen your knowledge.
382 pages
Easy-to-understand explanations for creating your unit of inquiry including unit plan samples, using the key and related concepts, global contexts, and statement of inquiries.
Student samples and teacher videos to help you plan your MYP Language Acquisition course.
BONUS CONTENT!
Take notes, keep track of your assessment marks, and reflect all in one spot with a free workbook. The workbook also includes:

Infographics from inside the toolkit

Self

-reflection questions

Small group discussion questions for your vertical, horizontal, or subject team, so you can work together to create a more cohesive MYP curriculum at your school.
EARN A DIGITAL CERTIFICATE
Earn a digital certificate that can be used for re-licensure (depending on your state or country).
1-click share your certificate on social media platforms:
Linkedin
Facebook
Twitter
NEED TO SUBSCRIBE WITH A SCHOOL PURCHASE ORDER?
Yes, we happily accept purchase orders just click the link below and enter the information. Should you need any help, contact us and we will be happy to assist you.
BOOK IDEAs
Looking for books to use in your Language Acquisition classroom? Find a few suggestions below .
MYP Language Acquisition Contributor Team
Kathleen Witte
MYP Language Acquisition Teacher & PYP Coordinator
Kathleen began teaching in 2010 where she taught the PYP and MYP. Growing up in Germany, studying and working in France and teaching at international schools in Holland, India, China, and the United States, she fully identifies with the IB approach and their progressive teaching and learning philosophy.
Janice Smith
MYP Language Acquisition Teacher, Head of Languages
Janice has been teaching in the IB since 2001. She teaches both MYP and DP Language Acquisition, as well as TOK. She is the Head of Languages at her international school and has her MA in Spanish Language & Literature.
Katharine Kleinhample
MYP Language Acquisition Teacher
Katharine is a French language educator in the Chicago area. She began teaching in 2011 and has been teaching IB Diploma and MYP courses since 2013.
Sally Hirsch
IB Educational Consultant
Dr. Hirsch has worked with the IBO since 2009 in roles including a workshop leader, curriculum reviewer, test bank developer, author, and online learning developer. She has extensive curriculum development expertise in the MYP IB program.
Some questions we hear often...
How does the toolkit help me with teaching MYP Language Acquisition?
This toolkit includes 30+ downloadable resources all focused on supporting you as you teach MYP Language Acquisition. The course includes:
Detailed information on building your unit of inquiry
Classroom examples and downloadable examples from experienced teachers
Best practices, videos, and audios to support you in becoming a more effective MYP Language Acquisition teacher
Our contributor team teach various languages (Spanish, German, and French) to give you examples and ideas for
ANY
language
you may teach for MYP Language Acquisition.
Can an experienced MYP Language Acquisition teacher benefit from using the IB toolkit?
Definitely! With over 30+ printable resources, our toolkit includes a wide variety of ideas to spark your creativity and get you excited about teaching language acquisition.
Can I use this for all my teachers at my school and district?
Yes! This MYP Language Acquisition toolkit is designed to work with our other Ibtrove toolkits for a comprehensive and unified professional learning opportunity for all the IB teachers in your building and district.

Bundle this toolkit with our other Ibtrove toolkits to create a customized learning plan for your teachers!
Our students love us
Really very thorough. I so wish I had gotten this years ago. The introductory video was really useful. I like the videos at the beginning of each section. I liked the classroom examples for ATLs.
Sam Dawkins, MYP Language Acquisition
Using Ibtrove courses I was able to get all 20 of my IB teachers trained quickly with minimal disruption to their schedule. Plus we saved quite a bit of money which was the cherry on top.

Richard Gant, Principal
I absolutely loved the workbooks. I wish I had those workbooks when I started out as an MYP educator.
Yashene Suppiah, MYP Science