IBTROVE's
MYP Science
Teacher Toolkit
Guiding IB educators towards success
$199
one year access per teacher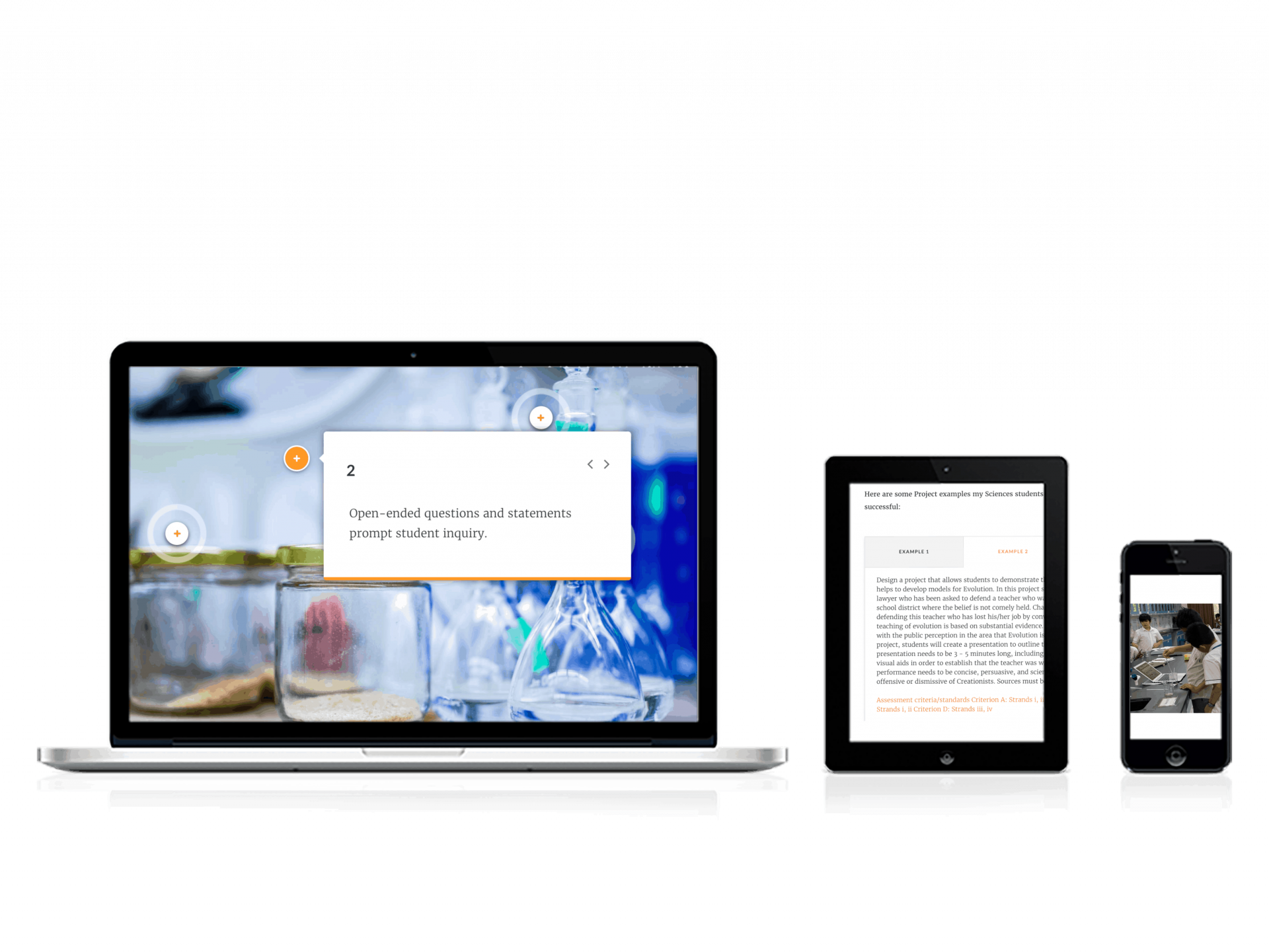 Watch a 90-second video to see how this Ibtrove toolkit will deepen your knowledge of MYP Science!
Practical tools, classroom examples, and content from IBEN members, regional workshop leaders, and experienced MYP Science teachers.
Classroom examples and resources to give you ideas for how to best teach MYP Science

Unit plan guidance and resources to help you plan your course more effectively

Explanations and graphics to help you plan your units of inquiry
Easy-to-understand explanations for creating your unit of inquiry including unit plan samples, using the key and related concepts, global contexts, and statement of inquiries.
30+ downloadable resources and informative graphics to use in your classroom and deepen your knowledge.
Student samples and teacher videos to help you plan your MYP Science course.
DIGITAL WORKBOOKS
Your digital workbook is designed to help expand your work on the core concepts within each online session. A wide range of activities, real classroom examples, infographics, and self-assessments will help enhance your understanding of each concept as it relates to your specific DP and MYP subjects.
Each digital workbook is downloadable and may be be printed when you begin your Ibtrove session. Consider it your unique repository of observations and reflections that you can share with students, peers, or as a reference tool while you navigate your IB school year.
Highly Engaging courses
Unique Learning Paths
Video Conferencing
Assignments
24/7 Support with Live Chat
EARN A DIGITAL CERTIFICATE
Earn a digital certificate that can be used for re-licensure (depending on your state or country).

Share your certificate with a click on social media


WANT TO SUBSCRIBE USING A PURCHASE ORDER?
We are happy to accept purchase orders! Just click below and if you require any help, just contact us and we can guide you through the process.
B OOK SUGGESTIONS
If you are looking for MYP Science books, here are a few suggestions.
MYP Science Contributor Team
Karen East
MYP Science Teacher & IBEN Member
Karen has been teaching for over 30 years in public education and has served as the MYP Coordinator and MYP Science teacher at her school in Colorado. She facilitated the work to help her school become an IB World School from the candidate phase through programme evaluation. She has her MA in Educational Leadership and is on the executive board of the IBARMS regional association. She became part of the IBEN as a workshop leader, school verification and evaluation team member, and MYP consultant in 2009. She wants to extend a special thanks to her daughter, Katy East, for her contributions as an IB teacher as she worked on this Edtrove project.
Christa Lundberg
Christa taught for 28 years before recently retiring. She taught all grades 6-12 at some point in her career, however the majority of those years were spent teaching MYP science to 8th graders. She has volunteered as a workshop leader, school verification and evaluation team member, Building Quality Curriculum evaluator, and consultant since 2001.
Teresa Wahito
Teresa has been teaching for over 15 years and is an experienced MYP Science teacher in Kenya.
Chris Gray
Chris is an experience MYP Science teacher who has been teaching in the IB since 2011.
Some questions we hear often...
How does the toolkit help me with teaching MYP Science?
This toolkit includes 30+ downloadable resources all focused on supporting you as you teach MYP Science. The course includes:
Detailed information on building your unit of inquiry
Classroom examples and downloadable examples from experienced teachers
Best practices, videos, and audios to support you in becoming a more effective MYP Science teacher
Can an experienced MYP Science teacher benefit from using the IB toolkit?
Definitely! With over 30+ printable resources, our toolkit includes a wide variety of ideas to spark your creativity and get you excited about teaching MYP Science.
Can I use this for all my teachers at my school and district?
Yes! This MYP Science toolkit is designed to work with our other Ibtrove toolkits for a comprehensive and unified professional learning opportunity for all the IB teachers in your building and district.

Bundle this toolkit with our other Ibtrove toolkits to create a customized learning plan for your teachers!
Ibtrove Reviews

I absolutely loved the workbooks. I wish I had those workbooks when I started out as an MYP educator.
ashene Suppiah, MYP Science
Using Ibtrove courses I was able to get all 20 of my IB teachers trained quickly with minimal disruption to their schedule. Plus we saved quite a bit of money which was the cherry on top.
Richard Gant, Principal
I've done a lot of IB courses online and they are not as well laid out or organised as this. It's hard to find the information you need sometimes. This is very easy to navigate.
Nicola Greene, MYP Science