IBTROVE's
IBDP Theory of Knowledge (TOK) Teacher Toolkit
Guiding IB educators towards success
one year access per teacher
one year access per teacher
one year access per teacher
one year access per teacher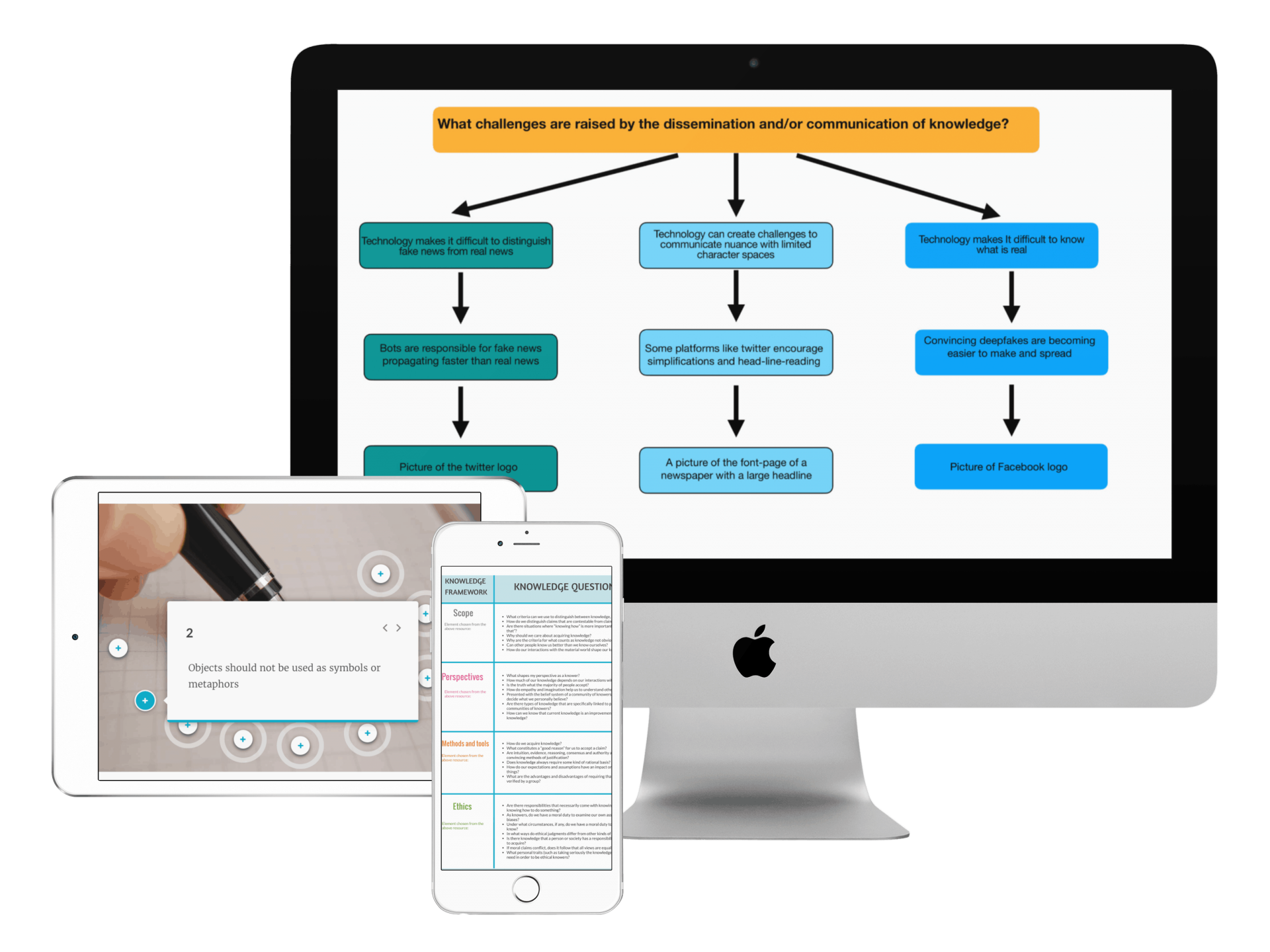 A 90-second video describing this Ibtrove TOK toolkit!
Practical tools, classroom examples, and content from IB examiners, regional workshop leaders, and experienced TOK teachers.
Classroom examples and expert guidance on all aspects of the TOK syllabus

Scope & Sequence support to help you design your course

Student assessment samples to practice your marking
Easy-to-understand explanations for the TOK syllabus details including the AOK, KQs, Core Themes, Optional Themes, and the assessments.
150+ printable downloadable resources and informative graphics to use in your classroom and deepen your knowledge.
Student assessment samples to help you mark your students' assessments more accurately.
Plan your scope & sequence and get support for designing your syllabus and course.
Bonus content!
Digital Workbooks
Your digital workbook is designed to help expand your work on the core concepts within each online session. A wide range of activities, real classroom examples, infographics, and self-assessments will help enhance your understanding of each concept as it relates to your specific DP and MYP subjects.

Each digital workbook is downloadable and may be be printed when you begin your Ibtrove session. Consider it your unique repository of observations and reflections that you can share with students, peers, or as a reference tool while you navigate your IB school year.
Certificate of Completion
Earn a digital certificate that can be used for re-licensure (depending on your state or country).
School Purchase
We gladly accept purchase orders. Just click below to begin the process or connect with us to let us help you through the process.
BOOK IDEAS
Looking for some books for your TOK class?
Here are a few suggestions:
Christopher Tyrrell
TOK Teacher, IB Examiner, Workshop Leader
Chris is a Canadian working abroad for the past 13 years. He is currently the TOK Coordinator at The Canadian International School of Hong Kong. He has taught TOK for over a decade now. He is an examiner for the TOK essay, was a member of the Curriculum Review Committee for the current TOK guide, and has delivered TOK workshops.
Daniel Sapakie
TOK Teacher & Workshop Leader
Dan has taught TOK (and IB Literature) for over 20 years and is an EE Coordinator and regional roundtable workshop leader.
Malcolm Nicolson
IB Educational Consultant, former Head of Programme Development
Malcolm has extensive educational leadership, decision making, analytical thinking and problem solving skills. He is a cutting-edge curriculum development specialist, with expertise in IB programmes where he was the Head of Programme Development.
Ruth West
ATL & ATT Expert, DP Coordinator
Ruth is an experienced educator who has worked online and in schools implementing the IB. She has held a number of educational leadership positions which have all focussed on supporting teachers to improve classroom practice, curriculum delivery and pedagogy to help increase student outcomes.

Some questions we hear often...
How does the toolkit help me with teaching TOK?
This toolkit includes 70+ downloadable resources all focused on the the scope & sequence of TOK and designing your syllabus. This includes:
Detailed information on the TOK Syllabus
Classroom examples and downloadable examples of scope & sequences from experienced teachers
Best practices on how to discuss TOK with other teachers and with parents

Can an experienced TOK teacher benefit from using the IB toolkit?
Definitely! With over 150+ printable resources, our toolkit includes a wide variety of ideas to spark your creativity and get you excited about teaching TOK.
Can I use this for all my teachers at my school and district?
Yes! This TOK toolkit is designed to work with our other Ibtrove toolkits for a comprehensive and unified professional learning opportunity for all the IB teachers in your building and district.

Bundle this toolkit with our other Ibtrove toolkits to create a customized learning plan for your teachers!
Ibtrove reviews
"[I loved] The outstanding resources that you could download in connection with each session. I also loved Chris' frequent reassurance that teaching the course was challenging and that we do not have to aim for vast amounts of content. The focus needs to be on building skills around TOK questions and knowledge claims."
"Using Ibtrove courses I was able to get all 20 of my IB teachers trained quickly with minimal disruption to their schedule. Plus we saved quite a bit of money which was the cherry on top."